VIALET - Our experience with the payment service (IBAN currency account)
The new payment solution for Europe? What is VIALET?
 We are always looking for the latest products and offers from the Fintech industry. Especially payment solutions have changed a lot over the past years. In search of uncomplicated and simple products we came across VIALET. Since it sounded exciting, we took a closer look at it. Our experiences as well as the pros and cons can be found in this blog article.
But first, what is VIALET?
 VIALET offers an IBAN account for EU citizens
According to the statement an opening should be done in a few minutes
In addition to private accounts, entrepreneurs and freelancers can also open a business account
Access to the account via App
Free payments within Europe
Table of contents:
·        The new payment solution for Europe? What is VIALET?
·        E-Money and more about VIALET
·        Possible applications of VIALET
·        Our Review (VIALET)
1)     Opening an account
2)     Depositing and withdrawing money, transfers
3)     Payment with VIALET (in Germany)
4)     Foreign currencies
5)     Safety
6)     Simplicity and speed
·        Advantages of VIALET
·        Disadvantages of VIALET
·        Conclusion
·        Are VIALET card to card transfers really free?       
E-Money and more about VIALET
VIALET is part of the Via SMS Group, a European Fintech from the Baltic States. Through the Central Bank of Lithuania, the company holds an e-money license valid for whole Europe. This means that the company is also regulated by the central bank. The E-Money license allows the company to offer IBAN accounts. This means that money can be transferred or received to other accounts.
Possible usage options of VIALET
- Contactless payment with the VIALET Mastercard
- Use as primary or secondary account (for travel)
- Use as business account
- Use for (instant) payments between friends, family, partners
- Paying in foreign currency with VIALET
- Card to card payments*
Our Review (VIALET)
In our review we have taken a closer look at the following points:
1) Opening an VIALET account
2) Deposit and withdraw money
3) Paying with VIALET (in Germany)
4) Foreign currencies
5) Security
6) Simplicity and speed (negative example, PSD2)
1) Opening an account
 VIALET is done with a simple account opening in a few minutes. We have tested if this is really the case.
To open an account with VIALET you need the VIALET app on your own smartphone.
Tip: You can easily download the app here.
After downloading the app we had to enter our data. VIALET is regulated and must of course comply with the anti-money laundering and fraud prevention laws. Therefore, the company has to ask for this data. In addition, a pin number for the app has to be assigned (5 digits) - make sure you remember and don't forget it!
All in all, the set-up was comparatively quick and easy. Afterwards you have to identify yourself. This can be done directly via the app. After verification the account will be activated and you can start using it.
VIALET says that an account can actually be opened in a few minutes. It took us about 10 minutes, but we didn't hurry either, but went through the individual steps in great detail. Faster would certainly be possible ;-)
If you wish, you can now order the VIALET Mastercard. We ordered it via the app. Without the card many useful functions would be missing. The card is a debit Mastercard. This means that payment can only be made if the VIALET account is covered. According to VIALET the delivery of the Mastercard takes about 5 days. In our test we had the card after 7 working days. To be fair, we have to say that due to the Corona pandemic, delays in deliveries can generally be expected.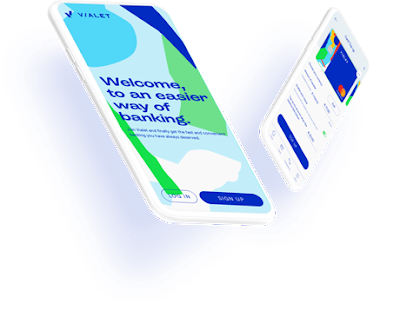 2) Depositing and withdrawing money, bank transfers
If the account is unlocked, money can be deposited to the account. This is possible via bank transfer or credit card.
We have not tested credit card payment. Therefore, we can only report about the bank transfer. The bank transfer was on the VIALET account after one working day.
The test transfer from VIALET to a German bank account took our test a total of 1 working day. This means that the money was in the account the next day. Experience shows that this can vary depending on the recipient bank. Nevertheless, it´s quiet fast.
Transfers from VIALET to other VIALET customers are transferred instantly according to the provider.
3) Paying with VIALET card (in Germany)
Of course, we wanted to know how smoothly paying with VIALET Mastercard works in Germany. In our test we especially tested the contactless payment option (via NFC). The card is simply held in front of the reader and the payment is made. For larger amounts, a pin entry can be additionally necessary.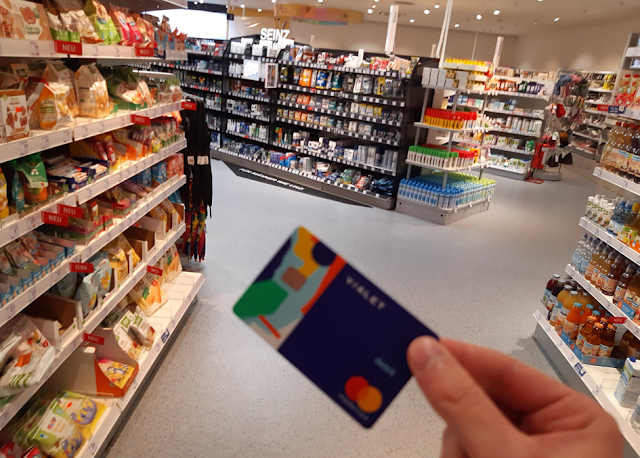 (Image: Let´s test it!)
Test payment 1 - In a drug store:
At the first time, it was necessary to enter the pin code for payment (after placing the card on the card reader device). According to the provider, for security reasons, it is necessary to enter the pin code the first time the card is used. This also applies to small amounts.. After pin entry, however, paying was no problem.
Important to know: Basically, it can happen with all debit and credit cards that the reading devices are not compatible sometimes.
Test payment 2 - In a supermarket:
The contactless payment worked. Simple and fast - that's what we expect
By the way, the VIALET App shows the turnover relatively soon after the purchase in the App and via push message.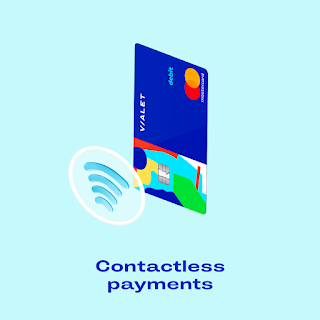 4) Foreign currencies
With the VIALET-Mastercard you can also pay in foreign currency. We have not used these functions in the current test. However, for our next trip to non-Euro countries this is an interesting option which we will certainly use.
In addition, it´s planned to send Euros (EUR), RUB and UAH via card to card payment (so-called OCT). Here you need to enter only the card number and card's holder name (no bank details) and payment is made instantly. So, we´re looking forward to new features in the future.
Update: VIALET recently has launched card to card payments, in UAH (to any payment card issued in Ukraine) and in RUB (to any payment card issued in Russia). This means that this feature is available right now.
5) Security
Each time you log in, the 5-digit pin must be entered for security reasons. This is also the case for outgoing payments. An additional tan procedure with an additional app or via SMS is not available. Is that good or bad? You will find more information on this topic in point 6 below.
6) Simplicity and speed
The app has a very simple structure, which we found rather positive. Unnecessary features have been omitted. And so, the handling is very intuitive.
One little point: You should be careful when logging out. You don't have to log out of the app (thus, the pin is queried every time you open it). If you do it anyway, you have to log in again with your mobile phone number and password/pin, which costs unnecessary time. But this is like mentioned rather a small thing.
On the positive side we see that no additional tan procedure via extra app or SMS is necessary. This saves time and nerves. Through the PSD2 regulation, numerous requirements were created here to make online banking more secure. However, banks and financial institutions implemented various and different ways to 'improve' the security standard. So, there may be providers where the whole process (i.e. online banking) has become very complicated. This is not the case with VIALET. Here we could do things very easily. For example, if you use the account as a travel or second account, we think it is important that it works quickly, easily and without much effort. Reliability is just as important. At VIALET, we also see a sufficient level of security. Customers' money is held in accounts at the Lithuanian Central Bank. A failure of the central bank is practically impossible. Furthermore, after each payment a push message is sent to the user's smartphone. If the Mastercard is lost, it can be blocked directly via the app.
Advantages (Pro's) of VIALET
Regarding VIALET we see the following advantages:
- Easy and quick to use
- It´s as functional as a "traditional" bank account in our point of view
- Mastercard is popular worldwide and with contactless function, contactless payments are possible without any problem
- Low costs (account is free of charge, Mastercard with 1.4 Euro per month comparatively cheap)
- Instant payments ("real-time payments") between VIALET Users, i.e. transfers from VIALET to other VIALET Users are credited in real-time.
- The Mastercard can also be used for payments in countries with foreign currencies. The fees are relatively reasonable (Mastercard rate + 1%). This can be considerably cheaper than in local exchange offices. You can find more information about the fees on the homepage of VIALET: Here
Cons of VIALET
Personally, we see the following cons:
- No desktop version available
- German is not available (yet). The app is available in RU, ES, LT, PL, EN, LV. If your phone language is one of the mentioned, the app will be available in that language. If not, it will be by default in English.
- Sending money on credit cards is not available for German credit cards (but should be possible in the future)
Summary of VIALET
VIALET offers a simple and very low-cost way to hold an IBAN account. The basic functions are comparable with those of a typical bank account. However, we were surprised by the speed and simplicity of VIALET. Transfers are much faster than with online bank accounts we tried before. For us, VIALET is a very good option to process payments quickly, secure and efficient.
Good to know:
VIALET is also used by Viainvest (p2p lending) for payments from investors to their investment accounts.
What we would see as positive would be if you could connect your own VIALET account directly with Viainvest, or have a corresponding feature available. Maybe we will see something like this in the future.
If you like, you can open a VIALET Account here.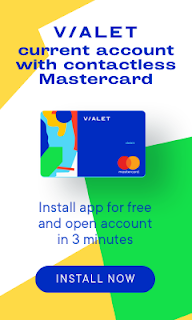 Sources: Own research, VIALET.eu, lb.lt (Central Bank of Lithuania)
---
Notes on affiliate links:
On our site you won't find any annoying advertising for any products that we don't know or use ourselves. We occasionally use affiliate programs, which we use to finance this free service for you and which enable us to keep the quality of the contributions high. Through the used links you do not pay more in any case, but you have advantages yourself like discounts or extra interest.